Chronology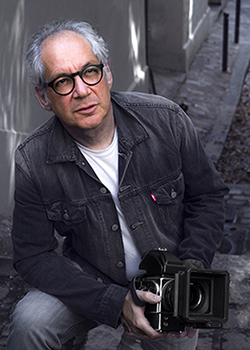 1960: First camera at the age of 6.
Discovery of non-conformity of the thing seen and the thing restored, first doubts.
1969: First darkroom.
1971 : First exhibition in Paris devoted to the demolition of the "Halles de Baltard".
1972-81
- First research on the meaning.
- Streamlining of developing and printing methods.
- "Festival des rencontres photographiques" in Arles, meetings with Helmut Newton, Arnold Newman, Jacques-Henri Lartigue, Gabriele Basilico, Franco Fontana.
- Meeting with Jean-Loup Sieff.
1981-82
- Member of the group that created the gallery « Sans légende » in Lyon.
- Takes part in numerous group exhibitions.
- Teaches photographic semantics and laboratory in the "Ecole des Beaux Arts" in Lyon.

1983-95
- Photographic work and contribution to choreography for the "compagnie des Pieds Nus" in "Maison de la Danse" in Lyon.
- Organizes Magnum's and Jean Dieuzaide's exhibitions in the gallery "Sans Légende".
- Exhibits with BEN (1983) in the "Maisons des Arts" in Génas.
- Meetings with Tony Catani, Hervé Gloaguen, Yvette Troipoux, Viviane Esders, Arnö Minkinen, Crysztof Pruzskowsky, etc.
- Contributes to and conducts several columns of the magazine ZOOM.
1995 to date
- Continues his personal work focused on both the portrait and the trace, the human presence in the city.
- Works with artists, actors, directors.
- Exhibition « Lignes de villes » (2006) in the "Galerie du Champs de Mars".
- Exhibition « Couleurs et matières végétales » (2010) in the "Galerie Initial".
- Works for various culinary newspapers, great chefs and growers (www.studio-sam.com - Facebook page)
2013
- Creation of thierrysamuel.com website, progressive publication of his archives.
2014 January
- Launch of the website thierrysamuel.com (read the press release) and of the Facebook page (go to the page)
2014 March
- Exhibition "Steps and clicks", Paris - Septembre 2013 - February 2014.